Attached dossier
Name : Alexei
Surname : Kuznetsov
Middle name : Viktorovich
Post : Former Minister of Finance of Moscow Region Government
A new Russian Blagojevich takes under control Pryor Cashman's Banking Group
The head of one of Russian mafia's groups Alexey Kuznetsov has legalized several billion US dollars in the USA through his wife's (Janna Bullock) Russian-American company RIGroup and Pryor Cashman's Banking Group. In order to strengthen his business connections last summer Kuznetsov and Bullock have married their daughter Zoya to Towson Remmel, the son of Lawrence Remmel, Chairman of Pryor Cashman's Banking Group, specialized in corporate and banking financings and act transactions. The Russian don has spent 5 million US dollars on his daughter's wedding, which was widely celebrated in Archangelskoe – the residence of a Russian tyrant tsar Ivan the IV (or Ivan the Terrible, whose policy was also carried out by a Soviet tyrant Joseph Stalin in the USSR and in Iraq by Stalin's admirer Saddam Hussein). (see more www.nydailynews.com)
Having found out that he and his wife will be arrested for their criminal actions, Alexey Kuznetsov and Janna Kuznetsova escaped from Russia right after the wedding. However Russians have succeeded in arresting some of the mafia members, who were headed by Kuznetsov (see more Rosbalt.ru).
To duck out in the USA Janna uses her wide ties with American establishment. She has met a lot of haut monde members after she became the Board of Trustees of Guggenheim Foundation member and helped to organize a number of American artists' exhibitions in Russia. Willing to cover the criminal activity and in order to create an image of a successful business lady Janna has hired R.Couri Hay Creative Public Relations.
The Russian Blagojevich
Alexey Kuznetsov is a talented mafia boss who has no baggage of bloody crimes, murders, racket and drug supplies (there are such stories but they don't have a direct connection with Kuznetsov yet).


Before his escape Alexey Kuznetsov, just like the Illinois governor Blagojevich, was in charge of financial flows in Moscow region – the second region in Russia in terms of capital and influence. As Blagojevich, who wanted to sell the senator's place in return for his wife's $ 150 000 annual salary in a NGO or an organization that worked with trade unions, Kuznetsov made the Moscow region business-men to conclude unprofitable agreements with RIGroup which belonged to his wife, Janna Bullock. They had to operate on RIGroup construction sites and Janna Bullock hasn't paid for this work yet. As a result RIGroup now owes construction companies several hundred million US dollars.
"I want to make money" – these were the worlds of Blagojevich explaining his wish to get the money from the electoral funds. Besides he demanded to be appointed a member of the President's team or an ambassador after he leaves his governor post. Instead he was arrested and charged of corruption in December 2008. "I have earned enough" – said Kuznetsov and spent 5 million dollars on his stepdaughter's wedding and, having found out that he is going to be arrested, escaped from justice and transferred the capital of some Moscow region state enterprises (MRITC, ICMR and MRAM and others) to off-shore companies. After his disappearance these companies' joint debt to creditors comes to 2 billion US dollars. As a result the Moscow region appeared to be on the verge of default ( Rosbalt.ru).
Kuznetsov considers that his stepdaughter's marriage to the son of Lawrence Remmel, Chairman of Pryor Cashman's Banking Group, in June 2008 will help him to legalize the criminal money in the USA. So as to control this process his wife, Janna Bullock, came back to the USA, where she spends all her time with Towson Remmel's family. Alexey Kuznetsov's location is unknown though he is always in touch with Janna Bullock and members of his criminal group by Skype. He has been seen a number of times in Europe, in Courchevel, where Janna Bullock had spent Russian mafia's money on purchasing several. Probably Alexey Kuznetsov stays in one of these hotels and uses falsified documents. From there he directs the crime actions of subordinated mafia organizations in Europe, USA and Russia. But let us consider everything in details.
A family in style noire
Alexey Kuznetsov's wife Janna Bullock was earlier involved in a scandal of Russian mafia's money laundering through the Bank of New York. During that time she worked as a lawyer Zeltser's assistant and, if her boss wished, also provided sexual services to his clients. Zeltser himself was frequently called to account for different jerrymanders and was even imprisoned for some ears in a Russian jail.
In the end of the 80s Zeltser had declared himself as a lawyer and surrounded himself by people of suitable quality – the lawyers Herbert Derman and Melvin Weiss, Zev Siegel, soon Janna Bullock, a sexy assistant who had recently immigrated from the USSR, appeared in his office. Herbert Derman was representing Zeltser in court when he and Doctors Richard Lipski, Vivienne Betalu and Anthony Tarasenko and Zev Siegel were judged in New Jersey for fraud towards American Urgy Medical Center and American Physician Services. Since the end of 1987 Zeltser worked there as a financial consultant and in 1988, according to the hospital owners, he and his companion Zev Siegel penetrated into the clinic, stole the statutory documents, changed the locks and after that declared that he owns American Urgy. The owners sued Zeltser and won the case, according to the court decision Zeltser had to pay them about 2 million dollars compensation in 1997. Note that under oath Zeltser said that he was not a lawyer and had no law education.
By that time Herbert Derman was under examination himself and in 1998 was sentenced to 10 years of imprisonment for a giant plantation of Indian cannabis that was found in an underground bin of his country house.
Russian mafia's money found their way to the USA
In 1993 Zetser began to work in the representative office of Russian Inkombank in the USA. In the beginning he dealt with tenancy issues in New York and Janna Bullock was entertaining Inkombank managers who visited the USA during their business trips. This way she met Alexey Kuznetsov who came to the USA to organize channels of Russian mafia's money legalization. Soon together with a stockbroker Donald Redfern, a worker of Shearson Smith Barney, Zeltser helped Alexey Kuznetsov to open a number of off-shore accounts and through Inkombank transferred there about $ 30 million of Russian mafia. Simultaneously Zeltser and Kuznetsov had stolen $ 5.6 million from the accounts of bank's depositors. They were demanded to return the money but they didn't agree, as a result in February 1994 Zeltser was fired from Inkombamk and it declared him in the Federal Court for the Southern District of New York accusing him of $ 5.6 million theft from Smith Barney and Chemical banks. Particularly $ 2 million were transferred to bank accounts of Anna Reid, Zeltser's wife, and his business partner Alexander Fishkin. Zeltser's old partner Zev Siegel helped him in this scheme. According to the Pittsburg Post Gazette of September 22nd 2002, Inkombank accused Zeltser of "laundering some part of money that was theft through a false corporation registered under the name of Zev Siegel and located in Marshall Islands". Some years before Zev Siegel was judged for burning the college founded by him in order to get the insurance.
Soon Kuznetsov was laid-off by Inkombank too. However the hearing was stopped because Inkombank had gone bankrupt in 1998.
The BoNY case
In August 1999 the New York prosecutors have finally started to investigate the facts of Russian mafia's money-laundering through accounts of Benex in the Bank of New York. As it was determined the bank's employees were involved in this illegal scheme of Russian money-laundering through the departments of BoNY in Long Island since 1996 till 1999. Zeltser, Janna Bullock and other company's employees were suspected in this case.
As it was once reported by The Times that the BoNY vice president Natasha Gurfinkel Kagalovsky had helped Inkombank to launder money. The Tetra Finance Establishment company was opened in Liechtenstein for this purpose and it was Janna Bullock who was appointed its head. Referring to "its own investigation" and "the attestation given by the New York bank department", The Times reported that using Tetra, which existed since August 1994 till April 1998, they were laundering money and lead away the banks' assesses through numerous off-shore accounts.
Later in the materials of the American judicial inquiry there appeared a golden American Express credit card, which was issued for the Inkombank board and was used by Janna Bullock. It took 8 pages of a report to list her expenses for a several months period of the year 1993. As a result American Express had to terminate the validity of this card. The following episode was mentioned during the hearings: in April 1996 Alexey Kuznetsov had bought a $575 000 house in the most prestigious New York district through another Inkombank's off-shore company in the USA Avalon Capital (the head of this company again was Janna Bullock).
Yet they were not punished because BoNY, the oldest bank in the USA, had decided to settle this affair peacefully. It signed prejudicial agreement with the New York prosecutors, according to the agreement the bank had to improve its inner procedures of doubtful bargains' monitoring and paid a $ 38 million fine. "We are satisfied with the agreement which meets the company's and our clients' interests", — claimed the head of the bank Thomas A. Renyi.
(see «Bank of New York Executive Resigns in Laundering Inquiry» by Timothy L. O'Brien, October 13, 1999 or «Respite for Bank of New York, Then Back in Thicket», by Timothy L. O'Brien, February 18, 2000, «The New York Times» and others).
By the way, Zeltser's partner attorney Melvin Vice, who was involved in the money-laundering scandal, some time ago was sentenced to 30 month of imprisonment for his machination.
Zeltser himself, who got by with the episode with Inkombank and BONY, became a very good specialist in Russian mafia's money legalization in the USA. In January 2001 he represented the former Head of the Presidential Property Management Department of the Russian Federation Pavel Borodin, who was detained in the USA on suspicion of money-laundering. In 2008 Zeltser joined the battle for the criminal inheritance of Russian-Georgian don Badri Patarkatsishvili. He used a US citizen and a remote Patarkatsishvili's relative Josef Kay, whose name was Iosif Kakalashvili before the immigration, Zeltser declared him to be the disponent of the inheritance instead of Patarkatsishvili's wife and daughter. "Zeltser came to me in two or three days after Badri's death. He said that Patarkatsishvili had left a will and that he had made the will in Zeltser's office in New York" – said Kay – "Zeltser came to my place and shown the will and a letter of attorney according to which I am now the disponent of his property". By Kay's words Zeltser is his and Patarkatsishvili's legal counsel since the beginning of 1990s.
Back to USSR
After learning from Zeltser ways of mafia's money legalization, Janna Bullock decided to organize her own channel and married the Russian don Alexey Kuznetsov. She registered her own company RIGroup (the abbreviation means Russian Investment Group in Russia and Renovation Interiors Group in the USA) and used it to legalize Russian mafia's money and invest the money in building and reconstruction of premises in the USA. According to the information provided by The New York Times, RIGroup became a big developer in New York. Not long ago she was purchasing the most expensive projects in Upper East Side of Manhattan (see NYTIMES.COM:
«Ms. Bullock is in the top five of "maybe 10 developers," doing what she does on the Upper East Side's gold coast, from the 60s to the 80s, between Park and Fifth Avenues, said George W. van der Ploeg, a senior vice president at Prudential Douglas Elliman. Mr. van der Ploeg analyzes the luxury town house market for private clients, many of whom are competitors of Ms. Bullock's, he said, and none of whom are women».)
Later on Kuznetsov and Bullock attracted Pryor Cashman's Banking Group to the laundering of Russian mafia's money.
Kuznetsov's scheme – Madoff can take a rest
In order to make a semblance of legal inpayments to RIGroup account Kuznetsov created several companies in Moscow region (the second of the most important subjects of Russian Federation). These companies belonged only to the region's government and were under Kuznetsov's control as he was an assistant of the region governor.
In fact it was a multilayer financial pyramid quite similar to the one created by Bernard Madoff who was sentenced to 150 year of imprisonment on the 29th of June, 2009.
However unlike Madoff, who was lying to his investors and regulators for 20 years without making any deals but only transferring all the money to his bank account and giving out the assets only on his clients' requests in the form of "profit", Kuznetsov had come with a better scheme: he decided to legalize mafia's money by constructing premises that he further sold to the region and simultaneously he had taken billion loans and made bonded debts for this activity.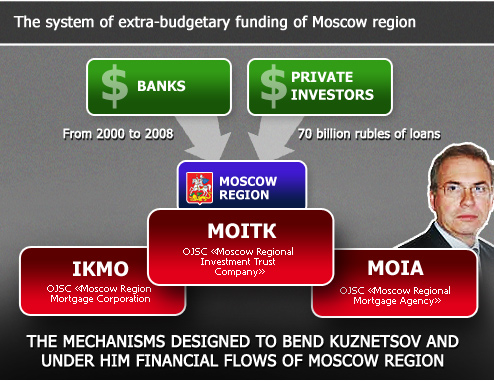 To be able to perform the above he became a governor's assistant in 2000 and created a number of branch establishments in Moscow region with 100% of state capital: Moscow Region Investment and Trust Company (МRITC), Investment Company of Moscow Region (ICMR), Moscow Region Agency of Mortgage (МRAM). Through RIGroup these companies order constructions of premises for the region needs – malls, sports objects and apartment houses. These objects were built partly on mafia's money and sometimes conscientious contractors participated in the construction. After again with the help of RIGroup they were bought by MRITC, ICMR and MRAM for regions' money at a very high price. The profit was mostly transferred to off-shore companies' accounts and were then legalized in the USA through the Chairman of Pryor Cashman's Banking Group, the lesser part of the money stayed on RIGroup accounts and was transferred to the USA where the money was used to purchase premises in the Upper East Side of Manhattan. After they were reconstructed with the use of mafia's money and sold at fabulous prices, which exceeded the purchase price several times.
The Russian Investment Group (RIGroup) was created in 2004. By the time Kuznetsov and Bullock escaped Russia the company's nominal capital (8,082 billion Russian roubles) was controlled by an American corporation RIGroup (3,6979%) and off-shore companies Vinilio Consulting Ltd. (5,7201%), Hotrust Consulting Ltd. (32,3965%), Nojion Holdings Ltd. (31,1651%), Trivalent Advisors CA (25,35%) and The Westbury Fund Ltd. (1,6704%).
The way they steal billions in Russia
Kuznetsov and Bullock didn't bound themselves with Russian mafia's money legalization. They began to attract bank deposits to the MRITC, ICMR and MRAM companies on a security of Moscow region and RIGroup. They had also issued several bonded debts of these companies to the sum of about $ 2 billion; the money was placed by Janna Bullock's investment and financial company RIGroup Finance. The money they managed to get was transferred by Kuznetsov and Bullock to the accounts of off-shore companies and RIGroup. Nowadays the companies MRITC, ICMR, MRAM and RIGroup Russia owe their creditors several billion US dollars and are now in the stage of bankruptcy.
By this time RIGroup has made investment agreements concerning the construction of more than 60 objects of residential and commercial real estate. Their joint floor space is more than 2 million m2 and most of them exist only on paper – their construction was never started though they had the money to build them, but the money had gone to Kuznetsov's and Bullock's off-shore bank accounts (this was studied in details by the Russian Forbes: forbesrussia.ru and lots of other large media in Russia, e.g. the Kommersant newspaper).
Now Moscow region pays its branch companies debts. Among those who had become victims of Kuznetsov's and Bullock's activities are a lot of large Russian and Western banks including Vneshtorgbank, Svyaz-bank controlled by Vneshekonombank, Deutsche Bank, that possessed 2.9 billion roubles obligations in the interests of Goldman Sachs, and a lot more who trusted Mr. Kuznetsov.
But Bernard Madoff was one of the most influential businessmen in the USA for his being the Chairman of the Nasdaq stock exchange Board of Directors. Also the Madoff Securities Fund created by him was considered to be one of the safest in the USA. All this didn't prevent him from lying to his depositors and among them there were not only the wealthiest people of the USA and celebrities but also the largest global banks - BNP Paribas, HSBC, Credit Agricole, Societe Generale, Natixis, Nomura, Royal Bank of Scotland, UniCredit.
On the 29th of June the court has sentenced Madoff to 150 years of imprisonment. But the sacred place is never empty, as they say in Russia. And Madoff will be very soon replaced by such swindlers as Alexey Kuznetsov and Janna Bullock.
In order to consolidate their position in the USA and to legalize "Russian mafia's money" last summer they became a part of one of the oldest American families – the Remmels. Lots of members of this family left their mark on American history. Unfortunately their infamous offspring serve no more to their society and law but participate in "Russian mafia's money" legalization.