Rumafia published this text 1,5 years ago. Perhaps this is the most detailed analysis of the way of life of Aslan Usoyan.
Criminal underworld of the former USSR is now getting ready for what might become the most important event in its history. Influential criminal bosses are gathering in the UAE in an attempt to settle down conflict between two rival clans - that of Tariel Oniani (alias: Taro) and Aslan Usoyan (alias: Grandpa Khasan).
Taro is not able to come - he is presently doing his term. The participation of Grandpa Khasan is also under question. He has recently survived the attempt on his life and avoids «public events». Secluded life, however, is no new for him. For years he has lived under permanent threat.
During last 15 years Aslan Usoyan has waged bloody criminal wars. He is a master of menace, chief boss of Russian mafia, who controls billions of dollars, rules whole regions, participates in state affairs and regularly meets high-profile officials.
Aslan Rashidovich Usoyan was born in Tbilisi on 27 February 1937 in a Kurdish family, observing Yazidism (pre-Islamic beliefs of native Kurds). In the USSR any religion was under suspicion and in the birth certificate his parents put «Armenian» as the nationality of their son.
Soon after secondary school, which he finished in Tbilisi, Aslan was introduced to the world of crime. He committed first offence in 1955. His early biography is difficult to trace. In 1955 he was arrested for attacking the police officers and sentenced to a year and a half. But in 1956 he was released from custody before the end of his sentence, because the Supreme Court «cut» his jail term. After the authorities let him loose, he got involved in the series of armed robberies in Tbilisi. By that time young Aslan had gained reputation of a leader and soon became criminal boss. His mob was arrested in 1959 in Tbilisi. Court sentenced him to 5 years in prison. Doing his term, he behaved as a criminal boss, not a foot soldier, strictly following the code of conduct for a mobster and earned the respect of inmates. Again he was released before the end of the term. Now Aslan got interested in the black market and illegal production enterprises, in the movement of so-called tsekhoviki (owners of illegal production lines).
He was involved in racketeering activities, providing help for friendly tsekhoviks and threatening others with break-ins. In 1966 he was imprisoned for the third time. Court sentenced him for 3 years for illegal business activities. During this jail term, he was «crowned» or awarded the title thief-in-law (chief mobster responsible for arbitrating conflicts and keeping the code of conduct). In 1968 the court of Tsulukidze town released him before the time. It is clear that someone oiled the judge's palm. Even in the USSR people accepted bribes.
Usoyan returned to his affairs with tsekhoviki. By that time the tsekhoviki expanded throughout the country and owned underground factories in different corners of the USSR. As a result, Usoyan began to travel. He managed to combine illegal business with «traditional» crime - burglary, extortion and robbery. Usoyan earned fortune - money ran down in his hands like water. He lavished care on the convicted criminals and provided them with financial support. He spent his holidays in famous Soviet resorts in the Caucases - Abkhasia, Krasnodar and the Minerlniye Vody spas. It was most suitable place to discuss business affairs with fellow mafiosi. They all played cards.
There were a lot of cardsharpers among Grandpa Khasan's friends in the 1970-1980s - Alimzhan Tokhtakhunov (alias: Little Taiwanese) and Grigory Kazarov (alias: Grisha the Dumpling). Usoyan was linked to the mobsters from Tbilisi: Zakhariy Kalashov (Shakro Junior, also Kurdish), Eduard Asatryan (Edik the Sturgion), Boris Apakia (Husky), Paatа Chlaidze (Big Paata) and others. Usoyan met Viacheslav Ivankov (Little Japanese) before the perestroika. Ivankov was a racketeer for tsekhoviki.
In 1984 Soviet militia arrested Granpa Khasan for the last time. In Tbilisi Khasan tried to sell forged golden coins to a group of Uzbeks - people who were introduced to him by tsekhoviki. But it turned out that the Uzbeks had connections, and soon court sentenced Usoyan to 15 years in prison. He did his time in Tobolsk labour camp, in Omsk colony no.9, Solikamsk colony no.6 and finally in the Sverdlovsk Region. While in prison, Grandpa Khasan met many influential mobsters and kingpins of Soviet underworld. He met mobster Yevgeny Vasin, also known as Jam. On Khasan's recommendation Vasin was crowned thief-in-law. In custody, Khasan demonstrated his adherence to the norms of mobster life and spoke about «criminal ethics». Slowly he gained reputation of the most «just» among thieves-in-law and even challenged Little Japanese (who was respectable mafiosi arbitrator). Grandpa Khasan became legendary figure in the world of mobsters.
Grandpa Khasan was released before the end of his term in 1991, again with the help of the bribes. It was a historic moment when underground business became legal and many more organised criminal groups emerged. New mobsters looked for help. They searched most influential thieves-in-law, and wanted to attract Usoyan on their side.
The golden age of mafia began. Grandpa Khasan was ready to play first fiddle.
Granpa Khasan rules over Kuban
After Georgia became independent, Grandpa Khasan left it. He moved to the Krasnodar Region, where he knew all mobsters. First he subjugated construction and development companies (owned mostly by the Caucasians), than - markets, banks, trade firms and resorts. He bribed officials from the police, local authorities and judges. Businessmen did not complain about him, because he provided protection both against mobsters and corrupt police.
Within just a few years Aslan Usoyan became shadow governor of the region. He crowned several fellow mobsters. Steadily his friends ousted all other mafiosi groups in the region.
In the mid 90s Usoyan's criminal empire expanded in nearby Rostov and Stavropol region and in the Mineralniye Vody. The editorial of the Russian Mafia (rumafia.com) has obtained the following document, filed by Rostov anti-crime unit. The document enumerates official bodies, affiliated with Usoyan. The list includes regional government, police, tax authorities, regional prosecutors, transport officials, five banks (including branches of Alfa-Bank and Avtovazbank), central market of Bataysk town and a number of commercial firms.
Individual number: 32369
BASE_NUM: 4
Number in the system: 126480
Full name (Surname/First Name/Patronymic Name): Usoyan Aslan Rashidovich
Date of birth: 1937
Data Bank: Organised Crime
DATA: 2509
Information about criminal activities: Organised Crime
Additional information: the list of corporations and individuals mentioned in the files
no.1 full name of organisation: …
no.2 full name of organisation: administration of the region
no.3 full name of organisation: tax inspectorate
no.4 full name of organisation: tax police
no.5 full name of organisation: Favorit Closed JSC
no.6 full name of organisation: Forum Association (address: Budenovsky, Rostov-na-Donu, Russia)
no.7 full name of organisation: Agroprombank
no.8 full name of organisation: Alfa-bank
no.9 full name of organisation: Silan individual enterprise
no.10 full name of organisation: Upon the Orel kebab house
no.11 full name of organisation: Kubinbank
no.12 full name of organisation: Avtovazbank (Rostov branch)
no.13 full name of organisation: Rossiya chemical plant of the defence ministry (Kamensk-Shaktinsky town)
no.14 full name of organisation: Rafo-2
no.15 full name of organisation: …
no.16 full name of organisation: control department of the chief regional prosecutor's office
no.17 full name of organisation: central market of Bataysk
no.18 full name of organisation: Kontakt insurance company
no.19 full name of organisation: transport directorate of the MVD for North-Caucuses District
no.20 full name of organisation: Aleks company
no.21 full name of organisation: Alisa-Rostov company
no.22 full name of organisation: Inkomservis company
no.23 full name of organisation: Rada company
no.24 full name of organisation: Sovet company (Rostov-na-Donu)
no.25 full name of organisation: Emiliya company
Status: thief-in-law
Individual number: 32369
BASE_NUM: 4
Number in the system: 126480
Full name (Surname/First Name/Patronymic Name): Usoyan Aslan Rashidovich
Date of birth: 1937
Data Bank: Organised Crime
DATA: 3262
Information about criminal activities: Organised Crime
Additional information: the list of corporations and individuals mentioned in the files
no.1 full name of organisation: A+A Closed JSC
no.2 full name of organisation: Paik company
Criminal police of the Stavropol Region has got evidence that Aslan Usoyan organised assembly of mobsters, where leaders of the underworld decided to spend criminal treasury on buying the majority holding in a large power station.
Grandpa Khasan's influence spread beyond Russian south. He made the Krasnodarsk Region his headquarters, but travelled across the country, finding necessary connections. In the police reports he was mentioned as a «visiting mobster». His visits were successful, because he had already new the majority of mobsters from the time he had been in jail in the USSR. They all did very well in new Russia.
For instance, Evgeny Vasin became criminal leader of the Far East. Grandpa Khasan made visits to Jam who played accordion to the old friend. Another Usoyan's friend - thief-in-law Vladimir Tyurin (Tyurik) - lived in the Tyumen Region. Thief-in-law Oleg Konovalov (Bandit) was a leader of a criminal group in the Vologda Region. In Vladivostok Usoyan was linked to mobster Yury Batyshkin (leader of the criminal group called Obshak), in Petropavlovsk-Kamchatsky - with Korean mobster Li Su Nam. In Barnaul Usoyan crowned his protégé Nurakhman Mamyrov (Mutay), in the Moscow Region - Viacheslav Chuvarzin (Slava the Green) etc. He organised criminal assemblies and enlarged the area which his clan controlled. Frequent «coronations» brought new members into the clan.
His activities in the region, however large they were, could not compare with money which were in Moscow. Zakhariy Kalashov (alias: Shakro), Kurdish mobster and old friend of Grandpa Khasan, settled down in the capital. With the help of the security ministers (including the FSB) this mobster built a business empire of casinos in Moscow in the early 90s. Casino Crystal, opposite to Taganskaya metro station, was Shakro's headquarters. He controlled various markets and was linked to oil-and-gas companies, such as Lukoil.
As far back as in 1992-1993 Usoyan took an interest in Kalashov's empire. Soon he became Shakro's partner and participated in his operations. Mobsters became so strong, that they interfered in foreign policy of Russia. Usoyan and Kalashov provided Abkhaziya with financial help and weaponry for this country's war against Georgia. They backed the Kurdistan Workers' Party which led Kurdish rebel movement against government forces in Turky. It is obvious that such international «projects» of Russian mobsters could not have taken place without the FSB's sanction and control.
In the mid 1990s a group of Russian journalists was sent to interview leader of the Kurdistan Workers' Party Abdullah Ocalan. We asked our colleagues to raise the issue of support which the KWP received from Usoyan and Kalashov at the interview. Having heard their names, Ocalan agreed to talk about it in private. And than he gave high praise to both mobsters.
St Petersburg mobsters did not surrender to Grandpa
In 1993 Aslan Usoyan decided to conquer St Petersburg. The city belonged to what mobsters called red belt. Red belt was a name given in the 90s to regions of Russia where people traditionally voted for the communist party. But mobsters used this word differently: they spoke about regions where old Soviet thieves-in-law had no influence. For instance, the thieves-in-law dare not come to the Kaliningrad Region. Or they could not travel to Sakhalin without permission from local criminal bosses (they considered this procedure humiliating). The same situation was in St Petersburg. The city's new generation of mobsters frowned upon old Soviet criminal bosses.
According to the police operational information, Aslan Usoyan was invited to St Petersburg by Grigory Kazarov (Grisha the Dumpling) and Konstantin Yakovlev (Kostya the Grave). Yakovlev met Grandpa Khasan long before. It was Yakovlev who helped Caucasian mobsters deal in antiquities. Usoyan made Kostya the Grave person in charge of arbitrating between rival clans. He used Yakovlev to strengthen his positions in the city. As a result, mobsters from all corners of Russia went to St Petersburg to meet Grandpa Khasan. And Granda Khasan sent his envoys to the regions with different tasks.
Russian police officers watched closely Usoyan's activity and registered every step he made. Here are the extracts from police reports.
Individual number: 37029
BASE_NUM: 4
Number in the system: 127054
Full name (Surname/First Name/Patronymic Name): Usoyan Aslan Rashidovich
Date of birth (d/m/y): 27/02/1937
Data Bank: Organised Crime
DATA: 2509
Alias: Khasan, Grandpa Khasan
Nationality: Armenian
Place of birth: Tbilisi, Georgia
Address:
no.1 registered at: flat 406, building 7 Dunaysky Prospect, Frunze District, St Petersburg, Russia
no.2 place of residence: flat 406, building 7 Dunaysky Prospect, Frunze District, St Petersburg, Russia
no.3 place of residence: flat 47, building 10/9, Zagorodnoye Highway, Moscow, Russia, 1233485
no.4 place of residence: Moscow
Information about criminal activities: Organised Crime
Additional information: thief-in-law and guest criminal, tall (1m75cm), sturdy built, nose of regular size, protruded chin, dark brown eyes, dark hair, convicted
Information dated (d/m/y): 10/02/2007
Summary: form 1 ABD, no.059-97, report f.7 no.03623 from the 3rd unit CID, Poltava
Text:
Following persons are connections of Aslan Rashidovich Usoyan in St Petersburg:
1.Igor Anatolyevich Khrustalev, 1960
2. Alaverdashvili Otari Isakovich, 23.02.1942, 10-2-89 Kupchinskaya Street
3. Gocha Dzhurberovich Birkadze, 22.10.1961, Kutaisi-born
4. Bagrat Georgievich Uglava, 29.09.1954, Kutaisi-born
5. Roland Varlamovich Chikvadze, 25.07.1955, Kitaisi-born
6. Shedeli Ilyich Zarandiya, 1957, born in Merkheuli village, Abkhaziya
7. Yury Anatolievich Metelkin, 1955, born in Lomonosov, Leningrad Region
OPERATIONAL INFO N445S, SOURCE: the UVD for Engels (the Saratov Region)
The UVD for Engels (Saratov R) has received operational information, that on 05feb95 the organised crime group, led by Nikolai Aleksandrovich Malinov (resident of St Petersburg), arrives in the city. Malinov is a close friend of mobster and «thief-in-law» Usoyan (Grandpa Khasan). Malinov's task is to put police officers of the city under physical pressure by the acts of terror [against them]. Upon the arrival to the Saratov Region Malinov will meet thief-in-law Dato from Tashkent, living in Engels, who will take part in and assist the operation.
OPERATIONAL INFO N486S, RECEIVED: 14.05.1996, SOURCE: report of the CID for North-Caucasus
The CID for North Caucasus informs about criminal connections in the North-West economic region. On 17jan1996 the CID received the following message from an agent: thief-in-law known as Grandpa Khasan frequently visits casino called Star Dust, which is situated in the building of the planetarium near Gorkovskaya metro station.
OPERATIONAL INFO N454SB, RECEIVED 08apr1996, SOURCE: (official) Department for Organised Crime Control of Vologda
Thief-in-law known as Grandpa Khasan (probably Aslan Rashidovich Usoyan, 1973) lives in St Petersburg. Certain criminal leaders from Vologda, including Oleg Borisovich Konovalov, 1955, convicted for a number of times, are planning to meet him and discuss current affairs in the city. According to the operational information, Granpa Khasan and Konovalov met while serving the sentence in prison. Their visit to St Petersburg is aimed at substituting current arbitrator of criminal conflicts Andrey Gennadievich Zakharov with another person. They also will negotiate possible measures against thief-in-law Aleksey Alekseevich Aleksandrov (a.k.a. Chuvash), who resides in Cherepovets.
OPERATIONAL INFO N857S, RECEIVED 24jun1996, SOURCE: CID for the Moscow Region
During the investigation of offences committed by thief-in-law Khusein Akhmadov (Khusein the Blind), it was established that Tamara Ivanovna Yeroshkevich (born 22jan1963 in the Irkutsk R., registered at: 50, building 27A, Novy Svet Street, Gatchina, the Leningrad R.) lived in St Petersburg and was a concubine of Khusein Akhmad's brother Khasan. Thief-in-law known as Vasya from St Pete visited Khusein Akhamdov in Balashikha (Moscow R.), where the latter lived. Vasya attended the funeral of thief-in-law Aleksandr Alyatin (Ustimovsky) in summer 1995. Khusein sent to St Petersburg Vladimir Valentinovich Morskikh (born 1954), a.k.a. Prickly, in august 1995. It was also established, that in May 1996 thief-in-law Vyacheslav Chuvarzin (Slava the Green) met Aslan Usoyan (Grandpa Khasan) in St Petersburg.
Despite all his attempts, Usoyan failed to consolidate his grip on St Petersburg. Neither local mobsters (the Tambov organised crime group), nor high-profile officers from the police and security agencies (affiliated with mobsters) wanted to see Grandpa in the former tsar capital. He annoyed the MVD, because he cooperated with counter-espionage officers and did not cooperate with the police. As a result, on 31 May 1996 the police arrested him in the car of deputy chairman of legislative council of St Petersburg Viktor Novoselov. Novoselov was affiliated with mafia, as well as his advisor convicted George Avdyshev, who turned out to be in the same car.
The police officers confiscated TT-pistol. In fact Grandpa Khasan never carried this gun - it was put on him by the police. After the arrest he was moved to an isolation ward, where he was given explanations about who rules the city. To teach him a lesson, the police penalized him under administrative law (destruction of the passport) and opened criminal investigation into illegal weapons. Simultaneously the Moscow police searched his flat as part of the investigation of a criminal case, opened in Stavropol. Grandpa Khasan and thief-in-law Rudolf Oganov (Rudik from Baku) were suspected of organising criminal group and a series of contract murders.
ACCORDING TO THE OPERATIONAL INFORMATION A.R. USOYAN AND RUDOLF SERGEEVICH OGANOV (BORN IN 1942 IN BAKU, AZERBAIJAN, THIEV-IN-LAW, ALIAS: RUDIK) WERE MEMBERS OF KARAKOZYAN-NOVOSARDYAN ORGANISED CRIME GROUP THAT COMMITTED CRIMES IN THE REGION OF THE CAUCASUS MINERALNIYE VODY. THE PROSECUTOR OF THE STAVROPOL REGION INITIATED CRIMINAL PROCEEDINGS NO.30010 INTO THE CRIME UNDER ARTICLE 210.1. THE DETAILS CAN BE OBTAINED IN THE CID FOR THE MINERALNIYE VODY OF THE MVD OF RUSSIA.
During search in Usoyan's flat in Moscow, the police seized golden bullion (2 kilos) and $380,000. It took Usoyan a lot of effort and money to hush up criminal case in St Petersburg and escape prison term. It was much easier to dismiss case in the Stavropol Region, of which he was almost an owner.
Soon after release, Grandpa Khasan fell out with Grigory Kazarov. Kazarov suspected Usoyan's people (including his son Nodar) of stealing good, he had stolen from the businessmen. In 1997 Kazarov spoke out, a year later he was killed by a bullet.
The same year the police put Grandpa Khasan under scrutiny as part of the investigation into murder of deputy governor of St Petersburg Mikhail Manevich. Khasan took part in privatization of a number of enterprises in St Petersburg. Manevich was responsible for privatization process. By the same time Usoyan began violent war against Rudolf Oganov. The war took a lot of lives. It resulted in Usoyan's withdrawal from St Petersburg. He decided to stand his ground in the south and continued cooperating with Kostya the Grave, his only representative in St Petersburg.
However, their union was not very strong. One moment Konstantin Yakovlev decided that he became mature enough to be on his own. Number of disputes between Kostya the Grave and Grandpa Khasan grew day by day and finally they had a strormy quarrel. Granpa Khasan sent to St Petersburg theif-in-law Vladimir Tyurin whose task was to protect Usoyan's interests. Tyurik and Kostya met at the airport. The quarrel started. Yakovlev asked Tyurin to convey a wish to Usoyan - no more envoys from him in St Petersburg, local mobsters were able to settle disputes on their own. Tyurik passed this word to Khasan. Very soon Kostya the Grave was shot in Moscow.
Godfathers drowned Russia in blood
Grandpa Khasan began his first large scale criminal war in 1993-1994 against thief-in-law Ilya Simoniya (alias: Makho). The conflict began in the late 1980s when Simoniya served his sentence in the labour colony of Tulun (the Irkutsk region). Simoniya had conflict with Vyacheslav Ivankov. Makho did not want to recognise Little Japanese as thief-in-law and set inmates against him. Ivankov did nor recognise Makho, because he was a member of komsomol (young communists) and, as Ivankov claimed, bought his thief-in-law title.
When both were released, the war continued. Makho settled in the Irkutsk region and became its criminal leader. Little Japanese began to crown his mobsters in Irkutsk, so that they could oppose Simoniya. Simoniya killed them one by one. Ivankov and his old friend Aslan Usoyan responded by targeting Makho with the campaign of discrediting.
Simoniya's positions grew week. He tried to meet Grandpa Khasan in St Petersburg, but Usoyan asked Simoniya to come to Moscow. Usoyan, Shakro and Tyurik gathered a group of «respectable» criminal leaders in Mizuri restaurant. The mobsters were almost unanimous that Makho sould be «decrowned» and deprived of thief-in-law title due to violation of the code of conduct and «unjustified» murders of mobsters (the only mobster against this decision was Vakhtang Ekhvaya). Simoniya did not want to obey - he pounced on Grandpa Khasan and than left the restaurant.
Makho was not going to surrender easily. He began to consolidate friendly mobsters, trying to mobilize forces. And he succeeded. For a long time many criminal dons, including Tariel Oniani (Taro), refused to accept his «decoronation». In 1994 Taro and Makho met Grandpa Khasan in a hotel. They tried to have it out with him, but Usoyan said he would not speak with Makho, because he was no longer a thief-in-law. And again Simoniya pounced on Grandpa Khasan.
Soon a hunt for mobsters close to Makho began in Irkutsk: thief-in-law Paata Gudashauri (alias: Beast from Tbilisi) was killed. On 28 August 1994 a Zhiguli car with Makho and Ekhaya was short on its way to Sochi. Mobsters were wounded, their driver - killed. Simoniya went underground and did not appear in public.
In 1996 Makho tried to get back to Irkutsk, therefore he sent two «messangers» to the city - thieves-in-law David Khmiadashvili and Bakuri Kalandadze. Both were killed immediately. But Grandpa Khasan did not want to eliminate Makho, he preferred to crush his reputation. He pressed other thieves-in-law to recognise Makho's decoronation. Simoniya was ousted from cushy positions. Fellow mobsters turned away from him. In the criminal hierarchy Simoniya plunged to the lowest level. He was permitted only to attack truck drivers in Irkutsk. When he moved to Moscow he could only join the mob of bag snatchers. But even in that mob he was at the very bottom - he became a driver who had to rush away with a snatcher. In 2010 he was arrested as an ordinary bag snatcher.
This conflict was a minor adventure compared to the war Usoyan waged against Rudolf Oganov (Rudik from Baku). By the mid 90s both criminal leaders had the same weight among criminals and got on well in the southern Russia. Usoyan controlled all of the Krasnodar Region and a part of the Caucasus Mineralniye Vody. Rudik controlled almost all of the Mineralniye Vody region and had certain interests in the Krasnodar Region. Their territory was demarcated and their interests did not overlap. Sometimes they cooperated. But very soon Khasan's numeroust proteges began to oust Rudik's people.
Oganov grew angry when Usoyan's people seized the resorts of the Mineralniye Vody region. Rudik could not openly challenge Usoyan - public quarrel over business matters did not match the code of conduct. Than, in 1996 Rudik began discrediation campaign against Grandpa Khasan. Many theives-in-law were dissatisfied with Khasan's activities and with many new people he had crowned. Grandpa Khasan stuck in the gizzard of too many.
Oganov found support among mobsters. Usoyan's attempts to settle the conflict down peacefully had little success. In November 1997 Rudik gathered in Moscow large group of mobsters. Grandpa Khasan was also invited. Nikolay Zykov (Yakutenok), Stepan Furman (Stepa from Murmansk) were present at the assembly. Oganov had a long list of pretentions to Usoyan: luxury way of life typical for nouveau riche and forbidden by the code of conduct, building business empire (forbidden), numerous unjustified coronations of new thieves-in-law (since that time, these mobsters were called Khasan's shtampovka literaly meaning «coining», coining new mobsters) and seisure of $850,000 of treasury, the Armenian mobsters gathered to support convicted gangsters. Grandpa Khasan answered that he adhered to the code of conduct and that money he earned were aimed at supporting inmates and young thieves-in-law.
The assembly consisted mainly of the mobsters who backed Rudik. They decided to «decoronate» Usoyan. Grandpa Khasan said that their decision was illegitimate, because they were not influencial enough to strip him of the title.
In order to finish with Usoyan, in 1998 Rudik's people killed his close assosiate in Pyatigorsk thief-in-law Edvard Amilyan (Edik-Moscow). Usoyan turned his funeral into the assembly of his supporters. Criminal bosses crowned young and promising mobster Aleksandr Khashirov (Khashir). He took the place of Usoyan and began to push Rudik's people out of the Stavropol Region and Mineralniye Vody with redoubled energy. Usoyan went to Kazakhstan where he had connections both in criminal world and in the government. He gave orders from there.
At the beginning he invited participants of the assembly which «decoronated» him to Kazakhstan for talks. The police found out what was the subject of such talks. For instance, in April 1998 Yakutenok flew to Kazakhstan. Grandpa Khasan put the question point-blank: either he stated the reasons why he supported "decoronation" within 20 minutes, or he had only himself to blame. 5 minutes were enough for Yakutenok to fall down and pretend to have fainted. Khasan's people brought Zykov outdoors. Soon he returned to his native Perm. But he was doomed: on 19 June three killers shot Yakutenok and his two bodyguards with machine gun in the night club called Bolid.
Besides explanatory talks, Usoyan tried to gather assemblies. But it was difficult task for the kingpin: according to the criminal laws, «decoronated» mobster had no right to gather assemblies. That is why the majority of mobsters ignored Usoyan's invitations. And only those who were not afraid to show support to him came - Zakhariy Kalashov and Evgeny Vasin in particular. When finally he managed to gather assembly with the large number of participants, his opponents used old Usoyan's method - they stirred up the police against the meeting.
In January 1998 about a hundred of mobsters gathered in a restaurant in the city of Shakhty in the Rostov Region. Hardly they began to talk, the police rushed in and arrested everyone. Grandpa Khasan tried to organise another assembly - but the result was the same. When in 1998 the mobsters decided to meet in Tashkent, local police and criminal groups prompted them not to create problems. Rudik decided not to wait until Grandpa Khasan regained influence - he decided to deliver a blow first.
On 8 June Grandpa Khasan and a number of fellow gangsters gathered in the bar called Ruby in Caucasus hotel in Sochi. Suddenly two hit man opened machine gone fire at them through the showcase of the bar. Thief-in-law Tristan Chachanadze (Tristan) and brothers Unoyev were killed. Usoyan was saved by a miracle - a minute before the attack he went out to the toilet.
There were murders in all corners of Russia after the assassination. Almost every week people were killed, either from Usoyan's clan or from Oganov's clan. It was clear there would be no peace between rivals anymore - and the war would end with the death of Grandpa Khasan or Rudik.
All mobsters of the former Soviet Union were involved in the war. Most godfathers tried to maintain neutrality, because everyone understood that further bloodshed could only ruin the whole business. As a result neutral mobsters decided to arbitrate the conflict and invited rivals for talks. Their meeting was planned for 5 September 1998 and should take place in Ukraine.
Usoyan did not like the idea. He was not going to make one's peace with Oganov. He made arrangements and 300 gangsters from the USSR and USA who gathered in Odessa were arrested by the police.
Grandpa Khasan managed to win many influential mobsters to his side. And than he led the assault. On 20 October three Mercedes were shot near Vlasovo Village, not far away from Naro-Fominsk in the Moscow Region. The hit men first launched grenades and than opened fire from the machine guns. The only car which left the scene intact was Rudolf Oganov's armoured Mercedes. He went to his cottage situated in Vlasovo.
Retaliation came soon. Hit men could not reach Grandpa Khasan, but his protégé fell easy pray. On 26 October Khashirov and a dozen of mobsters from Usoyan's clan met in a restaurant called Bristol in Essentuki. Their feasting was interrupted by two masked man, who opend the fire at the customers. Khashirov, thief-in-law Dmitry Movchan and mobster Abdurakhman Nugayev were killed.
The same night the participant of the assembly Zhulien Apakiya (Jullienne) told about what had happened to his father - influential Moscow's mobster Boris Apakiya (Husky). The latter consulted with his close friend Usoyan, and flew to Yessentuki. As soon as 29 October Husky gathered the majority of Usoyan's supporters in the village called Vin-Sady. The mobsters decided to eliminate the whole clan of Oganov.
For a long time Rudik sit snug in Pyatigorsk, where he had a crew of a dozen of bodyguards who secured him day and night in a cottage. But what happpened next was unexpected. In February 199 a person from Moscow called Rudik by telephone and asked him to come. Rudik did not take securities with him. Only Yury Fedoseev met him in Moscow. On their way to the city from the airport, they came round to a café in 51st kilometre of the Moscow Ring Road.
The events which happened in the café reminded of the film Pulp Fiction. Two people in long overcoats went in the café, the gun tubes facing the ground. They asked: Who is Rudik? Oganov realised it was a very last moment in his life. He stood up and said: I am Rudik. A burst of machine fire killed him. Fedoseev was wounded.
In the following years Grandpa Khasan's people one by one killed mobsters from Oganov's clan and the businessmen affiliated with him. Rudik's brother - thief-in-law Vladimir Oganov (Vachikos the Six-Fingered - he indeed had six fingers on a hand) - was killed. The decision of the assembly in Vin-Sadi was fulfilled. The majority of mobsters tried not to pay attention to the Khasan's violence - success is never blamed.
Having eliminated Rudik and his clan, Grandpa Khasan cleared his way to the throne of the boss of all bosses. But it took time to become chief criminal boss of Russia.
Kingpins in the FSB's service
After Russian criminal boss Aslan Usoyan, known as Granda Khasan, killed his main rival Rudolf Oganov (Rudik) in 1999, the way to very top of Russian mafia was clear. His ascension was backed by Russian security services. In the USSR the KGB supervised criminal activities of the most influential mobsters. It was the way to influence criminal circles and receive inside information. The collapse of the Soviet Union brought about disorder in the work of domestic security services which resulted in the lost of control over criminal world. Moreover, certain former KGB officers joined the mobs. For instance, Grigory Gusyatinsky became a leader of the Orekhovskaya criminal group. Former counterespionage officer Aleksandr Novikov still belongs to the close circle of Sergey Mikhailov, head of the Solntsevskaya criminal group.
However the period when mobsters felt free to do what they wanted did mot last long. In 1994-1995 the FSB again took the leaders of the criminal world under control. All influential mobsters, including Vyacheslav Ivankov (Yaponchik), Aslan Usoyan, Tariel Oniani (Taro) and Rudolf Oganov, cooperated with security officers - to say nothing of such criminal bosses as Vladimir Tyurin and Zakhariy Kalashov. They were said to be secret agents. The joke went that they even held military ranks.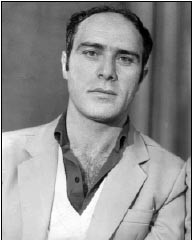 Rudolf Oganov (alias: Rudik)
At the beginning of the war between Rudik and Grandpa Khasan the FSB did not interfere in the situation. It made no difference to the FSB who would win - should both gangsters remain under control. Oganov and Usoyan consulted their supervisors in the FSB. But they refused to establish contact with the police.
Grandpa is fully kitted to rave it
Meanwhile, the government blamed the police for not preventing numerous contract killings, which took place almost every day. The country was plunging into menace - about 150 gangsters fell in the violent war between Rudik and Grandpa Khasan. And of course, it was organised crime control department that got it. In the second half of the 1990s this department managed to attract most experienced officers who had caught influential mobsters at the time when they had been minor pickpockets, muggers and illegal dealers of smuggled goods. Memories of that time did not bring pleasure to the mobsters. This was the reason why criminal bosses did not want to cooperate with the police officers.
The police had to plant drugs or weapons on Grandpa Khasan - that was the only way to establish contact with him - or to suspend him on murder charges. The practice still exists. In 1998 the police officers planted a bag of ecstasy powder on Grandpa Khasan (there was no other drug at hand). Mobsters said later: «Grandpa was ready to rave it». Anyway it was a good pretext to interrogate Usoyan. Usoyan said he wanted to crown large number of Slavic mobsters, because the Caucasians established the gang rule in Russia. He also advised Yaponchik should be brought back from America (where he was doing his term for extortion), because only Yaponchik could stop the violence of the Caucasians. Grandpa Khasan also asked the police not to drive away mafia assemblies, so that mobsters could themselves solve his conflict with Oganov. He did not promose to stop the war, but undertook to help to release presidential envoy Valentin Vlasov abducted by Chechen militants. Indeed Vlasov was released very soon.
It was the first time when the police established contact with Usoyan. But as soon as new people came to the organized crime control department, Grandpa Khasan stopped any cooperation with the police. Why would he need it? His close relatives became police officers. The Russian Mafia (rumafia.com) journalists knew a Boris Pashayev, an officer from the organized crime control department of Moscow police. He used to speak about his childhood in the Caucasus. As a young boy he climbed the mountains and collected WWII weaponry left by the Nazis. He also used to speak about his relative Aslan Usoyan. They met each other regularly. In the police Pashayev was responsible for detaining crime kingpins.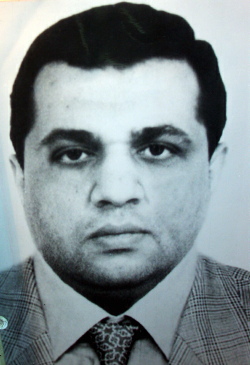 Boris Pashayev
Pashayev caught dozens of criminal bosses from the clans, «competing» with Usoyan's clan. Pashayev had a safe packed with arms. He used these arms to plant it on crime bosses. Now this police officer has been put on the wanted list - he is accused of raping a witness of a criminal case. His photograph is posted on the MVD official site. Pashayev does not even hide. He lives in Georgia and works as a lawyer.
Crime boss contemplating state affairs in Russia
The police still practices arresting Usoyan for the purpose of interrogating him. He was detained in 2008 for the last time. It was time when conflict between him and Tariel Oniani emerged. He was arrested in Moscow on charges of a contract killing in the Krasnodar region. The police put him in an isolation ward for 2 days and interrogated him. Later on, the FSB always interfered when the police tried to arrest Usoyan. Moreover, when the police understood that the FSB patronizes Usoyan, they took Grandpa Khasan side in the mafia war between him and Taro. The police agents has planted drugs or arms on Grandpa Khasan's rivals and driven away their assemblies for 3 years.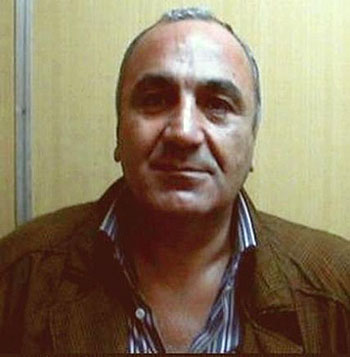 Tariel Oniani (alias: Taro)
Sources in the FSB say that such Usoyan is under the patronage because he assists the government with important issues related to mafia - for example, criminogenic situations during the Olympics 2014 in Sochi. The things go as far as that high-profile officials meet and talk with Usoyan. Once the police put Grandpa Khasan's favorite restaurant under surveillance and filmed the visitors of the place. To their surprise, one of them was deputy head of the presidential staff Vladislav Surkov - the Kremlin's political strategist and "grey cardinal".
Later the police agents found out that this meeting was organized by the FSB at the instance of Surkov. Surkov and Granda Khasan spoke about construction projects in the Krasnodar Region on the threshold of the Olympics (first of all about road building). Usoyan controls not only construction companies in the region, but also suppliers of building materials. Usoyan virtually controls all contracts for building objects for the Olympics. A source in the MVD said that Surkov asked Usoyan to attract other companies, because Surkov was concerned about precise compliance with the plan of such important building project. However, Usoayn said that he would handle his job well on his own.
Usoyan has got used to arbitrating conflicts between retired officers of security services. In 2008 the conflict emerged between former colonels Sergey Naumov (FSB) and Vladimir Tkachev (MVD) - they wanted to divide the plant called Voskhod. Aslan Usoyan and Viacheslav Ivankov were invited to settled down «dispute». They took part in the talks between sides in different expensive restaurants.
When there was some friction between directorate "M" and directorate "K" within the FSB, it was Grandpa Khasan's clan that suffered. M-men patronized Usoyan - that is why K-men arrested Usoyan's people (usually as part of international police operations). Before the arrests, the FSB did everything to deprive mobsters of Russian citizenship (the FSB usually made up reasons for deprivation of citizenship). That was the way Vladimir Tyurin and businessman Leon Lann (Leonid Kaplun or Kaplan) lost their Russian passports. In 2011 the conflict between these factions in the FSB was put to an end - and the FSB does not touch Usoyan's people any more. They do not want to saw branch they are sitting on. Granpa Khasan assists not only in the preparations for the Olympics, but helps transfer money abroad
Russian mobsters turn Spain into Rublevka
By the end of the 90s the size of the business empire built by Grandpa Khasan and Shakro Junior became enormous. Their wealth amounted to millions of dollars. But more they expanded, more enemies they had. Only in Moscow Kalashov suffered 5 attempts on his life. In June 1994 snipers fired Shakro's jeep with his wife, daughter, bodyguard and a vice president of North-Eastern Oil Company. The attempt on Kalashov's life took place near the residence of the Russian president. Shakro was wounded in breast and arm.
Within next 3 years Kalashov suffered three more attempts. One of such attempts was a skirmish that took place in the very centre of Moscow, in Bolshoy Zlatoustovsky Street in front of Rossiya hotel on 29 March 1996. Two hitmen, hiding in an UAZ car with ambulance marking, opened fire from machine guns at Shakro. Shakro and his driver were wounded. The police arrested the culprits - they were members of the Izmaylovskaya orginised crime group. The reason for the attempt on Shakro's life was the conflict of interests in aluminum business.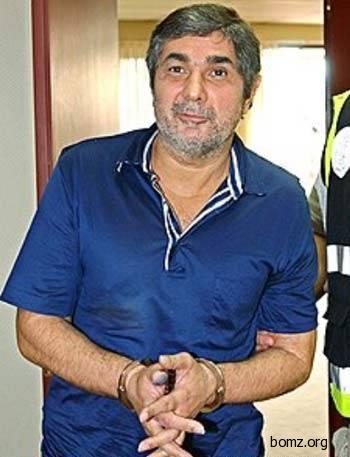 Zakhariy Kalashov (alias: Shakro Junior)
In April 1999 there was another attempt on his life in North Ossetia, than 2 more attempts in Georgia (according to sources). Shakro spent fortunes on security service; he had dozens of bodyguards armed with pump-action shotguns. When he traveled everything was arranged in such a way as if a country leader were making official visit abroad. When he went to Georgia, his bodyguards searched both plane and landing strip in the airport.
In April 1999 the police arrested Shakro Junior near the casino called Crystal. The police found 33.5 grams of hashish hidden in his jacket. 10 bodyguards accompanied Shakro. His cortege consisted of 3 cars. But, of course, he clasped such important thing as a bag with dope to his very heart!
Lawyer Aleksandr Gofshtein undertook to defend the mafiosi. Soon Shakro was released. He decided to leave the country. He had no choice: as the joke has it, he was like potato - either planted, or dug out. Shakro moved to Spain where he had bought cottages and yachts with money he had earned with Grandpa Khasan.
At that time Spain attracted Russia mafia bosses as a place where money could be laundered. According to the Spanish police, Usoyan and Kalashov earned their fortunes on arms and drug dealing, oil refinery, selling metal and timber, extortion, racketeering banks, restaurants and casinos. Shakro Junior decided to gather mobsters in order to discuss a money-laundering scheme which could unite the flows of dirty money from Russia.
The meeting of criminal bosses took place in Montiboli hotel in Spanish Alicante city on 20-21 March 2003 - ironically the city holds international conferences on crime control. According to the «tradition», the meeting's pretext was celebration of kingpin Zakhariy Kalashov's birthday. Such criminal bosses as Aslan Usoyan, Vladimir Tyurin (alias: Tyurik), Vitaly Izgilov (alias: the Beast), Tariel Oniani (alias: Taro), Merab Gogia (alias: Merab), Dzhamal Khachidze (Dzhamal represented Solntsevskaya mob), Vakhtang Kardava, Mamuka Mikeladze, Armen Aratyunov, businessmen Konstantin Manukyan and Leon Lann took part in the meeting. The assembly decided to make Spain a center for money laundering.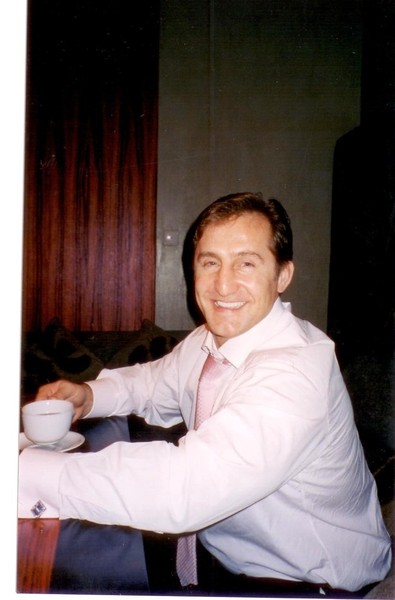 Vladimir Tyurin (alias: Tyurik)
Mafia bosses set up a number of companies - Sunnivest 2000, Elviria Invest, Megrisa, Megabetta V and Megabetta N, Inmboliarios Estepona etc. According to the police of Spain, Leonid Lann and Konstantin Manukyan, co-founders of Sunnivest 200, were charged with money laundering. They bought real estate in Spain and provided financial services to Kalashov and other mobsters. The scheme turned out a success and other criminal clans used it - for instance, Malyshevskaya and Tambovskaya groups.
Kalashov coordinated the work of all companies involved in the scheme. His partners were Usoyan and Oniani. Shakro maintained good relations with both criminal bosses. Taro dwelled in Spain, whereas Grandpa Khasan preferred to travel. He visited former Soviet republics and other countries. He gathered the assemblies, crowned new criminal arbiters etc. He often went to Austria (his son Nodar lived there), the UAE (many mobsters and leaders of orginised crime groups lived there), Spain, Germany, Abkhazia (Usoyan controlls the majority of resorts there). Granpa Khasan travelled to the USA where his friend Vyacheslav Ivankov did his term.
While in American prison, Yaponchik met shadow dealer Evgeny Dvoskin (Chegrash). It emerged that Chegrash was Ivankov's far relative. Yaponchik liked him and gave him a sort of a «reference letter». As soon as the US government opened another case against Dvoskin, he fled to Russia and went to Grandpa Khasan, Yaponchik's friend. Chegrash learned to launder money in the USA. Usoyan was happy to meet such «expert» - in a view that he had the reference letter from Yaponchik in his pocket.
Soon Dvoskin began to cooperate with the officers of the FSB. The FSB also lacked money-laundering experts. The FSB needed to send money to foreign agents and sponsor some operations. As the result, Dvoskin worked both for the FSB and mafia. He used the same schemes for both.
In July 2004 Yaponchik was released and sent back to Russia. But hardly has he arrived in Moscow, the police arrested him on charges of killing two Turkish builders in a brawl in the cloackroom of Pomidor restaurant (in the 1990s the restaurant was mobsters' favourite place). However, the jury freed him of all charges and he was released. The majority of criminal leaders welcomed the return of the legend of the underworld, but did not offer him a share in business. They realized that they could only play second roles if they cooperted with Yaponchik.
Unlike others Grandpa Khasan helped his old friend - he turned over control over profitable objects and part of criminal treasury to him. Dvoskin also helped Yaponchik.
International crime is marching on
Usoyan and Ivankov shared common beliefs. They thought that older criminals, first of all from the Caucasus, should crown mobsters of all nationalities. Usoyan and Yaponchik crowned Jews, Belorussians, Chechens, Buryats, Russians, Chuvash, Kazakhs, Kyrgyz, and Uzbeks. The main criterion was loyalty to Usoyan.
Meanwhile Spanish authorities got fed up with Russian gangsters' buying villas and yachts and turning Spanish resourts into criminal Rublevka Highway near Moscow. In June 2005 Spanish police carried out operation (called «Wasp») against Russian mafia. About 200 people were arrested, including Vitaly Izgilov. They were accused of money launderig and tax evasion.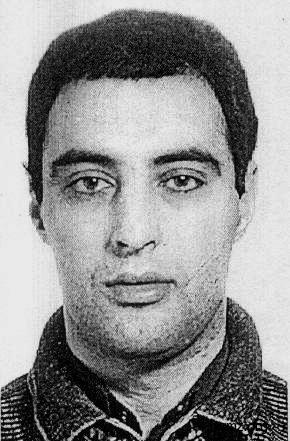 Vitaly Izgilov
Zakhary Kalashov, Tariel Oniani, Leon Lann, Konstantin Manukyan and Vladimir Tyurin learned about the Wasp before the operation started (it is, of cause, a myth that there are no corrupt policemen and officials in the West). The gangsters moved to Russia. Only Kalashov who feared arrests and assassinations, fled to the UAE. In March 2006 Kalashov celebrated his birthday and invited his old friends Ivankov, Usoyan etc, so that the party turned into criminal assembly. Two months later the UAE arrested Kalashov and extradited him to Spain.
After his extradition, Spanish police began to carry out large operations against Russian mafia once in two years. In June 2008 the police arrested members of Tambovskaya and Malyshevskaya criminal groups, including Aleksandr Malyshev and Gennady Petrov, as part of the operation called Troyka. In summer 2010 the police of Spain arrested a dozen more Russian mobsters, including influencial leader Kakhaber Shushanashvili (Kakha), brother of mobster Lashi Shushanashvili.